SPEAK THE WAY YOU BREATHE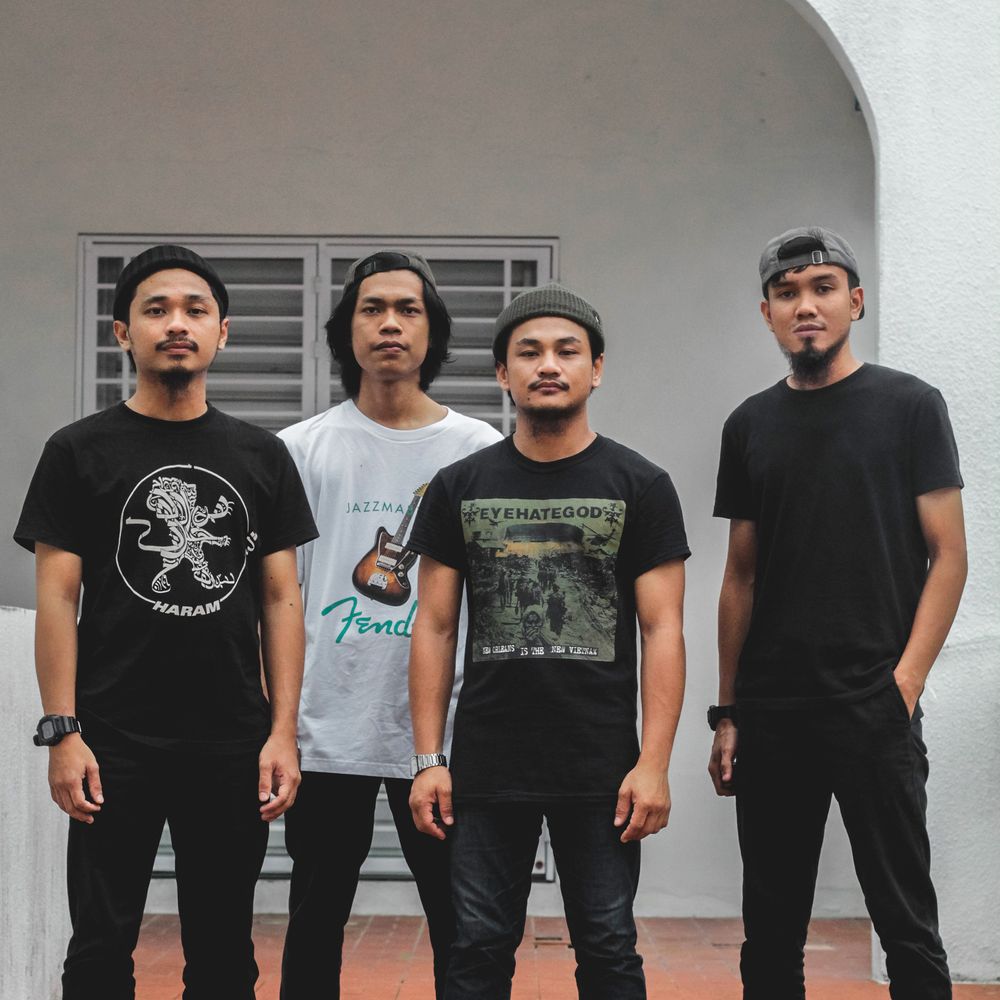 CLOCKWISE IS A KUCHING POST-PUNK BAND THAT HAS BEEN PERFORMING TOGETHER SINCE 2013, STARTING WITH PLAYING IN SMALL GIGS AROUND CAT CITY KUCHING AND TO NAME OTHER FEW MUSIC EVENTS. CLOCKWISE ARE KNOWN FOR THEIR REPERTOIRE OF DENOTING POST-PUNK/ POST-ROCK/ SHOEGAZE IN THEIR SOUNDS' ENERGY WITH SLIGHTLY AGGRESSIVE IN THEIR PERFORMANCE.
THE EXISTING BAND CONSISTS OF TARIQ (GUITARIST/VOCALIST), SAMENG (GUITARIST), MIERUL (BASSIST/VOCALIST) AND ASYRAF (DRUMMER). CLOCKWISE' EXPRESSIVE STYLE OF MUSICS HAS BEEN INFLUENCED MUCH MAINLY BY FUGAZI, KILLEUR CALCULATEUR, NOTHING, MOGWAI, DANIEL STRIPED TIGER, SHCLOKA, DEFTONES AND FEW OTHER BANDS TO MENTIONED.
FACTS
Their first demo (ANTAGONIST) consist of two tracks - DISEASE and STATE OF MIND, wERE recorded in April 2019 and physically released in November 2019. later in year 2020, they released IT ON digital platforms MINORLY. 
THEIR LATEST EP (NO CELEBRATION) WERE RECORDED SINCE 2018 AND FINALLY BEEN RELEASED ON 5TH OF OCTOBER 2022. 
Besides cities in Sarawak, the band has been playED in other cities in Malaysia INCLUDING Kuala Lumpur, Kota Kinabalu, Pahang KUANTAN and by far, outside of Malaysia which is Pontianak, Indonesia.
List on past few music events that has been played with:
Human Rights (2013) / Indie Vibes (2014)
 Urban Caravan Carnival, KL (2015) / Bazzar Music Fest 7, KK (2017)
Sarawak Grunge Fest (2017) / Kuching City Rock (2017)
Noise Of Borneo (2018) / Grunge For Heroes, Pontianak (2018)
Tour Salam Pecah Laut (2019) / Kuching Mods Mayday (2019)
Clockwise Dirty Clean Party (2019) / Indieversary Tour (2019)
For The Broken 3 (2019) / Libertasia, Pahang (2019)
Sitok Kuching (2019) / Madman The Buffalo Theory Tour (2019)
B-show #1 (2022) / El Factory Session (2022)
This Might Be The Last One Show (2022) / Let's Be Friend : 5 Years Anniversary Rumah Panjai Kuching Punk House (2022)
VOLUME UP YOUR SOUND!
ANTAGONIST DEMO
CLOCKWISE
THIS DISPUTE ARE QUITE UNWILLING TO COMPROMISE - ANTAGONIST
Read more…
LATEST NEWS
OUR UPCOMING EP'S AND MERCH WILL BE OUT VERY SOON! 
MORE INFO AND NEWS WILL BE SHARED AROUND, DO STAY TUNE FOR IT!
CLOCKWISE' EXHIBITS